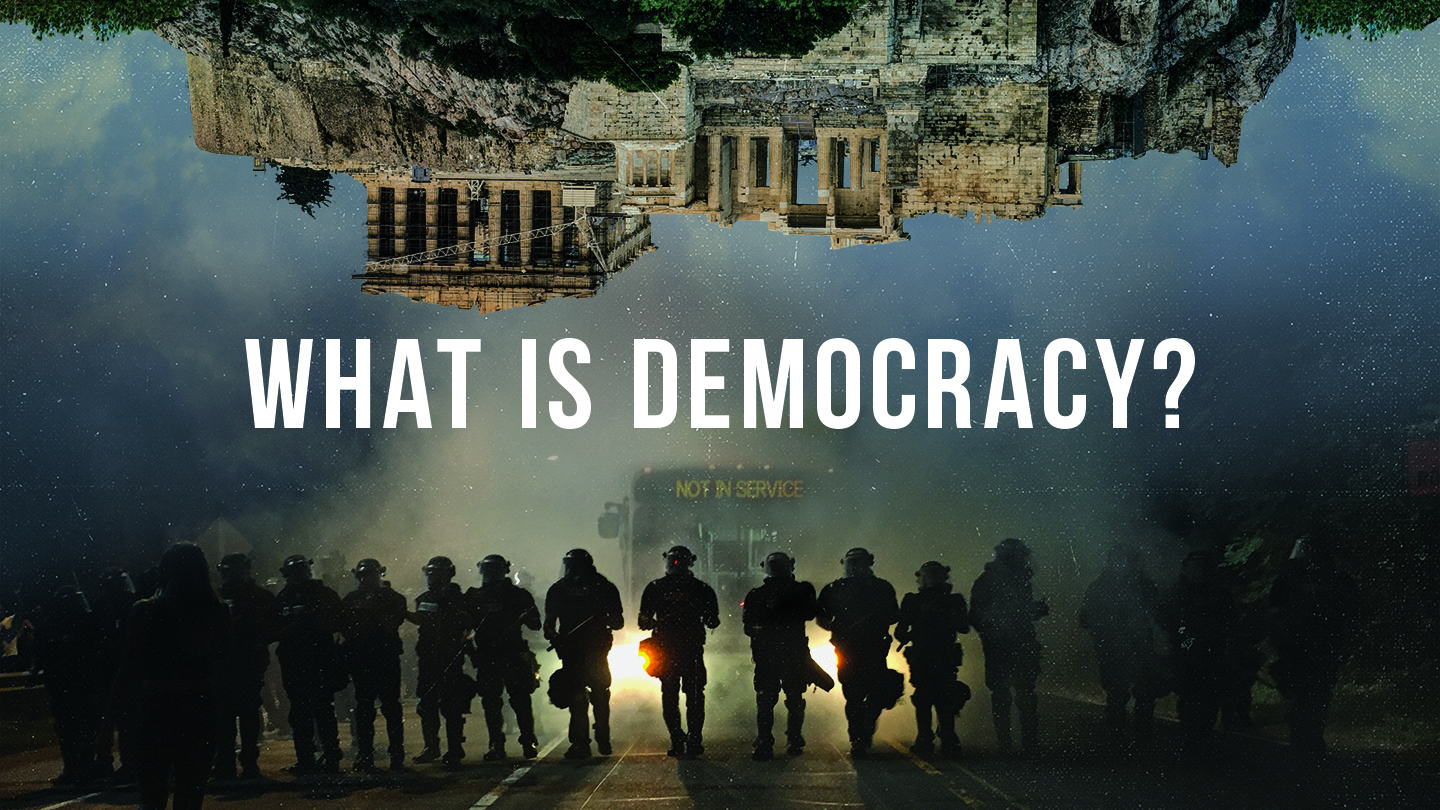 THE BOOK
WHAT IS DEMOCRACY REALLY? WHAT DO WE MEAN WHEN WE USE THE TERM? AND CAN IT EVER TRULY EXIST? ASTRA TAYLOR, HAILED AS A "NEW CIVIL RIGHTS LEADER" by the Los Angeles TIMES, PROVIDES SURPRISING ANSWERS.
There is no shortage of democracy, at least in name, yet it is in crisis everywhere we look. 
From a cabal of plutocrats in the White House
 to gerrymandering and dark-money campaign contributions, it is clear that the principle of government by and for the people is not living up to its promise.
The problems lie deeper than any one election cycle. As Astra Taylor demonstrates,
 real democracy — fully inclusive and completely egalitarian — has in fact never existed. In a
 tone that is both philosophical and anecdotal, weaving together history, theory, the stories of individuals, and interviews with former prime ministers and such leading thinkers as Cornel West and Wendy Brown, Taylor invites us to reexamine 
the term. Is democracy a means or an end, a process or a set of desired outcomes? What if those outcomes, whatever they may be — peace, prosperity, equality, liberty, an engaged citizenry — can be achieved by non-democratic means?
 In what areas of life should democratic principles apply? If democracy means rule by the people, what does it mean to rule and who counts as the people?
Democracy's inherent paradoxes often go unnamed and unrecognized. Exploring such questions, Democracy May Not Exist offers a better understanding of what is possible, why democracy is so hard to realize, and why it remains worth striving for.
"We live in an age that demands that we rethink democracy from the roots — and teach ourselves to think again as citizens. Smart and engaging, Astra Taylor's Democracy May Not Exist makes a formidable contribution to meeting those pressing generational challenges." —Danielle Allen, author of Our Declaration: A Reading of the Declaration of Independence in Defense of Equality
"What is this thing called Democracy? Google the question and you will exceed one million hits. But for an honest and illuminating answer, read this book — every single word. Searching, lucid, visionary, Astra Taylor takes a deep oceanic dive into the history, meaning, uses, and promise of democracy — moving from Plato's Greece to Syriza's Greece, from the Global South to post-Communist East, from slavery to fascism, liberalism to neoliberalism, Occupy to the Commons. She knows what most political scientists don't: that democracy is a promise unfulfilled, and in our strivings to achieve it nothing is guaranteed. But we can't live without it." — Robin D. G. Kelley, author of Freedom Dreams: The Black Radical Imagination
"Astra Taylor is a rare public intellectual, utterly committed to asking humanity's most profound questions yet entirely devoid of pretensions and compulsively readable. Now she plunges deep into the crisis that underlies so many others: the sorry state (and the exhilarating promise) of this thing called democracy. At once richly historical and immediately relevant, this wise, lucid and unflinchingly honest book deserves to be at the center of public debate." — Naomi Klein, author of No Is Not Enough
THE FILM
SYNOPSIS
Coming at a moment of profound political and social crisis, What Is Democracy? reflects on a word we too often take for granted. What does it mean for the people to rule—and is that something we even want?
Director Astra Taylor's idiosyncratic, philosophical journey takes us from ancient Athens' groundbreaking experiment in self-government to capitalism's roots in medieval Italy; from modern-day Greece grappling with financial collapse and a mounting refugee crisis to the United States reckoning with its racist past and the growing gap between rich and poor.
Celebrated theorists Silvia Federici, Cornel West, Wendy Brown, and Angela Davis are joined by trauma surgeons, activists, factory workers, asylum seekers, former prime ministers, and others. This diverse cast confronts vital questions: Who gets to participate in democracy? What is freedom? Can democracy even exist in an era of concentrated wealth? How can the people reclaim the power that is supposed to be theirs?
Instead of providing easy answers, What Is Democracy? connects the past and the present, the emotional and the intellectual, the personal and the political, in order to provoke and inspire. If we want to live in democracy, we must first ask what the word even means.
Writer/Director
ASTRA TAYLOR
Astra Taylor is a filmmaker, writer, and political organizer. She is the director of the philosophical documentaries What Is Democracy? (TIFF 2018), Examined Life (TIFF 2008), and Zizek! (TIFF 2005); the author of the American Book Award winner The People's Platform: Taking Back Power and Culture in the Digital Age; and a co-founder of the Debt Collective. She has written for The New York Times, The London Review of Books, The Guardian, The Walrus, The Baffler, n+1, and many other outlets. She is a former Shuttleworth Foundation Fellow and a former touring member of the band Neutral Milk Hotel. Her new book, Democracy May Not Exist, but We'll Miss It When It's Gone, is now out from Metropolitan Books.
Producer
Lea Marin
Lea Marin is an award-winning Toronto-based producer with more than 18 years' experience in the industry. A graduate of the Canadian Film Centre's Producers' Lab, Lea joined the National Film Board of Canada as a producer in 2006. Her most recent film credits include Charles Officer's Unarmed Verses, which won the Best Canadian Feature Documentary Award at Hot Docs 2017. Other credits include Chelsea McMullan's My Prairie Home, and Astra Taylor's Examined Life.
Director of Photography - Maya Bankovic
Sound Recordist - Sanjay Mehta
Sound Design - David McCallum
Editor - Robert Kennedy
Music Composer - Heather McIntosh
Executive Producer - Anita Lee
U.S. SCREENINGS

Upcoming
The People's Forum New York NY June 26, 2019
APSA Conference Washington DC August 29, 2019
Past
Scuppernong Books Greensboro NC May 16, 2019
Sanctuary for Independent Media Troy NY April 24, 2019
Brooklyn Public Library Brooklyn NY April 17, 2019
Aperture Cinema Winston Salem NC April 16, 2019
Angelika Pop-Up Washington DC April 12-18, 2019
Ashland Independent Film Festival Ashland OR April 11-15, 2019
CMU International Film Festival April 7, 2019
Rose Theater Port Townsend WA April 5-11, 2019
Naro Expanded Cinema Norfolk VA April 3, 2019
Eckerd College Film Series St. Petersberg FL March 29, 2019
Treefort Music Fest Boise ID March 22, 2019
Northwest Film Forum Seattle WA March 21-24, 2019
PATOIS Film Festival New Orleans LA March 21, 2019
Northwest Film Center Portland OR March 20-21, 2019
Silco Theater Silver City NM March 15-21, 2019
Grand Lake Theatre Oakland CA March 6, 2019
Laemmle Music Hall Theatre Beverly Hills CA February 22-28, 2019
Laemmle Royal Theatre Los Angeles CA February 25-26, 2019
City Arts & Lectures San Francisco CA February 28, 2019
Gene Siskel Film Center Chicago IL February 15-21, 2019
Brattle Theatre Cambridge MA February 1-7, 2019
Guild Cinema Albuquerque NM January 24-28, 2019
Jacob Burns Film Center Pleasantville NY January 17, 2019
IFC Center New York NY Opens January 16 2019
JCC of Manhattan New York NY January 8, 2019
Cinema Arts Centre Huntington NY January 3, 2019
Vermont International Film Festival Burlington VT November 29, 2018
Hollywood Theatre Portland OR November 25, 2018
McCourtney Inst. for Democracy, Penn State University University Park PA November 27, 2018
Cine Athens AthensGANovember 2-8, 2018
Columbia University-School of the Arts New York NY November 1, 2018
Lake Placid Film Festival Lake Placid NY October 28, 2018
Film Scene Iowa City IA October 28, 2018
Pembroke Center Providence RI October 25, 2018
Boston University, Political Science Department Boston MA October 24, 2018
Woodstock Film Festival Woodstock NY October 11,13, 2018
Camden International Film Festival Rockport ME September 15, 2018
"A probing documentary stands out from TIFF's 'Impact Films'"
"[A] searing analysis of who's really in control."
"What is Democracy? is a call to arms, but it is also a powerful and piercing reminder that, as Plato said, 'nothing is beautiful without struggle."
"Never afraid to grapple with big ideas, director Astra Taylor (Žižek!, Examined Life) contemplates the virtues and failings of the great democratic experiment in an erudite documentary esssay that ranges widely from the writings of Plato to the election of Donald Trump."
"Taylor travels around the world in the film, asking everyone from activist Angela Davis to public school children about how much faith they have in democracy...it's the perspectives of these people — the women, the people of color, the working class — that Taylor wants to uplift."
"[Taylor] propels her investigation into the Big Question by approaching it with a fragmentary quality. If you let it, this fragmented and necessarily incomplete account of democratic possibility will tell you everything you need to know, everything that is gestured at but never fully said by anyone onscreen."
"In her new documentary What Is Democracy? Astra Taylor takes on the consequences of global capital, namely inequality and exclusion."
"Taylor's intervention — to take seriously as political theorists all members of a given polity, on wildly varying and contradictory scales, from the usual suspects (Wendy Brown, various heads of state) to the least powerful (laborers, refugees, middle schoolers) — operates as an ambitious and generous extension of the logic of her previous films."
PRESS
"In almost every conversation, an insistent civic mindedness and recognition of some larger, inclusive group of diverse people — what might be called the social body — eventually comes to the fore. If these aren't the seeds of democratic culture, then I don't know what is."
"This is a documentary essay in the guise of an investigation. The movie is radically democratic."
"The must-see documentary of the decade."
"Serious and intellectually generous."

"It all adds up to a kaleidoscopic...always involving approach to a major concept that, despite the wealth and breadth of Taylor's offerings here, feels like just the first step in surveying anew where democracy stands — and falls — in our present universe. But what a crucial first step it is."
"The resulting narrative is nothing like a cable news debate. All the various thinking in the film combines to a cogent, difficult argument about the troubled relationship between bounded democratic communities and unbounded global capital."
"Taylor's overarching project is certainly ambitious, but what makes the film successful is its presentation of the discrepancies between democracy's promises and its actualization. "
"But even when Taylor talks about the potholes of progress, you can detect a note of infectious optimism. The cinematography in the film underscores this openness, with the handheld camera framing every subject in an equal gaze, whether they're Cornel West or a student at N.C. State."

"Taylor poses open-ended questions to her subjects, generously giving them a free rein to not only tell their personal stories but to grapple with big ideas and to describe where they see themselves fitting into the global equation — or even the local one."
"An invitation for you to participate in asking and answering the question of who the people are, and how they might rule."
"From the ruins of Plato's Academy to the police-choked streets of Charlotte, North Carolina, the heights of international finance to the dregs of the US prison system, Taylor gives us a glimpse of "what is really going on." But more importantly, she also gives us a glimpse of the world that might be possible, and the wonders that might be achieved, when everyone is given a seat at the table."
"The film plays not at all like a "boring civics lesson" but a thrilling intellectual quest."
"This incisive documentary unravels an inquiry that's actually a lot more complicated than it sounds."
"What Is Democracy? is more than just a question or the cinematic crowd-sourcing of a word's meaning. The film interrogates democracy in practice as much as theory: the democratization of democracy, if you will – enacting an arrangement in which participation and access to the determination of its meaning is given equally to everyone."
CONTACT:
FOR GENERAL INQUIRIES:
info@whatisdemocracy.info
FOR US FILM BOOKINGS:
A Zeitgeist Films release in association with Kino Lorber. To book this film please contact Nancy Gerstman (nancy@zeitgeistfilms.com) or Emily Russo (emily@zeitgeistfilms.com) or call 212-274-1989.
https://zeitgeistfilms.com/film/whatisdemocracy

FOR THE REST OF THE WORLD:
A National Film Board of Canada production.